Learn More about the Next Meeting

Archive Page
PAST MEETING: NOV 14, 2014
Topic: LUNG TRANSPLANTS: What UNOS is doing to Find Your Perfect Organ
Lisa Schaffner speaks at the Nov 2014 Breath Matters meeting at Chippenham Medical Center in Richmond, Virginia. She speaks on the topic of UNOS and its efforts to match life-saving organs between deceased donors and those on the national organ donation waiting list maintained by UNOS (United Network for Organ Sharing). UNOS works with important organs such as the heart, lungs, kidneys, pancreas, liver and intestines.
In particular, Lisa Schaffner speaks on lung transplants, how lungs are donated, how they are matched to people in need, and the pitfalls and difficulties of providing successful organ transplantation.
Recorded live at the November 2014 meeting of Breath Matters in Richmond Virginia at the Chippenham Medical Center, Kraus Auditorium.
---
FDA approves Boehringer's Ofev (nintedanib) for the treatment of IPF and Intermune's Esbiret (pirfenidone)
The U.S. Food and Drug Administration today approved Ofev (nintedanib) for the treatment of idiopathic pulmonary fibrosis (IPF). Idiopathic pulmonary fibrosis is a condition in which the lungs become progressively scarred over time. As a result, patients with IPF experience shortness of breath, cough, and have difficulty participating in everyday physical activities. Current treatments for IPF include oxygen therapy, pulmonary rehabilitation, and lung transplant.
"Today's Ofev approval expands the available treatment options for patients with idiopathic pulmonary fibrosis, a serious, chronic condition," said Mary H. Parks, M.D., deputy director of the Office of Drug Evaluation II in the FDA's Center for Drug Evaluation and Research. "Providing health care professionals and patients with additional treatment options helps enable appropriate care decisions based on a patient's need."
The FDA granted Ofev fast track, priority review, orphan product, and breakthrough designations. Ofev is being approved ahead of the product's prescription drug user fee goal date of Jan. 2, 2015, the date the agency was scheduled to complete the review of the drug application.
---
PAST MEETING: OCT 13, 2014
The presentation by Dr. Lori Sweeney was informative and covered many issues related to the thyroid and the effects on blood pressure. Also discussed was how gender effects lung disease, the effects of estrogen on lung ailments, and related problems with diabetes, obesity, blood vessel remodeling and vitamin D deficiency. Much more was brought up during her questions and answers.
VIDEO PART 1 - PART 2 - PART 3 - PART 4
---
Researchers hope to create artificial lung to buy time for implant patients
"NIH-funded researchers are working to develop wearable "respiratory assist devices" that could do the lungs' two jobs — supplying oxygen and getting rid of carbon dioxide — without tethering patients to a bulky bedside machine. It has been challenging.

"The lung is an amazing organ for gas exchange. It's not so easy to develop a mechanical device that can essentially replace the function of a lung," said bioengineer William Federspiel of the University of Pittsburgh Medical Center's McGowan Institute for Regenerative Medicine, who helped invent a bedside device called the Hemolung and is working on next-step devices.

Donated lungs are in such short supply that only 1,923 transplants were performed last year, just 80 of them repeats, according to the United Network for Organ Sharing."
Full article at the Richmond Times Dispatch
PAST MEETING: SEO 8, 2014
(Nurse Pract.) & Attendee, Pulmonology Department, MCV Hospital, Richmond, VA
TOPIC: "THE NEW COPD MEDS"

The September 8, 2014 meeting was very well attended, we had a packed room to hear NP Janet Pinson.
Janet Pinson, NP, MCV Hospital Richmond Virginia Video taped at the Sept 2014 Breathmatters suport group meeting for lung disease sufferers at the Bosher Auditorium in Chippenham Medical Center, Richmond Virginia.
Discussed were the keys to Pulmonary Rehab Success, and the importance of exercise, in particular arm exercise.
Discussed were the new inhalers, such as:
Combinent Respimat
Tudorza Pressair
Breo Ellipta
Anora Ellipta
Arcapta Neohaler
Striverdi Respimat
Spiriva Respimat
---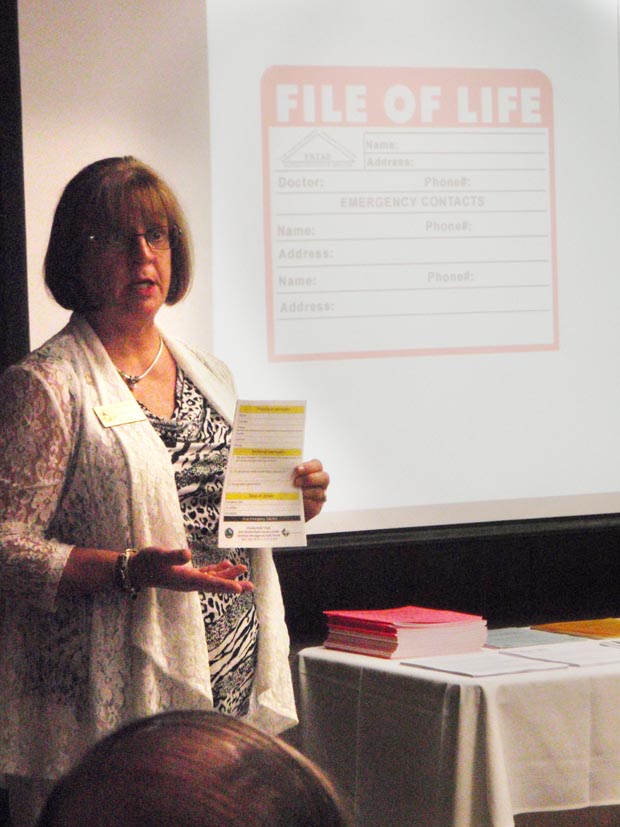 July 2014 Meeting
Debbie Leidheiser spoke
Senior Advocate, Chesterfield County Virginia
TOPIC: Seeing Through the FOG of Senior Resources
The July 2014 meeting was held at Bosher Auditorium with a good crowd for a day that had intense July heat in the Richmond area. Ms. Leidheiser talked about the explosive growth of people aged 50 and older in the Richmond metro area, and how this growth is expected to increase as more people come to live in the Richmond area. Described in the presentation are the many programs and resources available for seniors.

The Richmond Virginia metro area is considered a highly desirable place for retirement and the infrastructure to support this population has increased considerably. Ms. Leidheiser describes the many tools available for better living for seniors in our area.

Read more about the July 2014 Meeting
---

---
Last Page Update: September 14, 2020
---