A Dedication to Resourceful Living: A group approach to focus on what matters to the members of our community whose lives are impacted by chronic lung disease.
Join us for a fun summer full of support for our community members and new guests!
This Month Meeting:
Date: July 11, 2011
Time: 1:30 – 3:00 p.m.
Location: Bosher Auditorium
Click for directions
Speaker: Joanne Peart of
VCU School of Pharmacy


Assoc. Professor,
VCU School of Pharmacy
Topic: INHALATION DELIVERY DEVICES.
Courtesy Of: Louisa Home Care
---
Bosher Auditorium
Chippenham Medical Center
7101 Jahnke Road
Richmond, VA 23225
---
About Joanne Peart
Joanne Peart is Assistant Professor at Virginia Commonwealth University (VCU) School of Pharmacy in Richmond, Virginia. Following her PhD, she joined the Aerosol Research Group at VCU, where she has continued to investigate the electrostatic properties of inhalation aerosols, including metered dose inhalers, dry powder inhalers and spacer devices. Dr Peart has published a series of original research articles in aerosol electrostatics and has made several invited presentations at national and international symposia. She is a registered pharmacist in Great Britain and is a member of the American Association of Pharmaceutical Scientists, the Aerosol Society, the Institute of Physics and the Electrostatics Society of America. Dr Peart co-organises the Respiratory Drug Delivery Conference series and co-edits the published proceedings. She has a degree in Pharmacy and a PhD in Aerosol Pharmaceutics from the University of Bath.
---
Mark Your Calendar for AUGUST!
Next Month's Topic: Proper Use of Inhalers and Nebulizers
Speaker: Janet Pinson,
Nurse Practitioner VCU Ambulatory Care
Questions? Call the Facilitator, Russell Glover (804) 378.0628. Donation in Memoriam page
---
OUR SPONSORS
Chippemham Hospital of CJW is our largest supporter
Lincare, Rachele Clement, Representative
Louisa Home Care, Roger Householder, Representative
Roberts Home Medical, Jo Lynn Hamelman Supervisor
---
Benefits of Joining A Support Group
With an illness like Lung Disease, often a feeling of hopelessness and loss of control becomes the norm. With a support group, participants are able to regain that sense of control and exercise authority toward management of their situation.
Support groups can be instrumental in improving psychological motivation. By simply getting "out of the house" and joining with other people with an understanding of the problems being faced, a positive attitude can be nurtured and improved.
WHO CAN JOIN
Any individual that is lung affected can become a member. However, recognizing that it is not only the individual with the lung disease that needs support we encourage the caregivers or "care partners" and other family to join and attend the meetings. Learning and receiving support together helps to equalize the disease experience for all who are involved.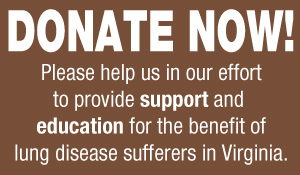 Resource links
More links being organized, if you have suggestions of good, quality information sources, please send it to us.
HELP US!
Do you know of a currently operating pulmonary support group? We are compiling a list for this website: if you know of one, let us know. Thanks.