A Dedication to Resourceful Living: A group approach to focus on what matters to the members of our community whose lives are impacted by chronic lung disease.
Join us for a fun summer full of support for our community members and new guests!
This Month's Meeting:
Date: September 12, 2011
Time: 1:30 – 3:00 p.m.
Location: Bosher Auditorium
Click for directions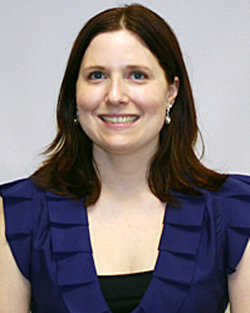 Speaker: Brooke Groth, VIRGINIA FARM BUREAU Insurance Instructor

Brooke Groth
Topic: MEDICARE & MEDIGAP (A & B) THE PRESCRIPTION Plan (Part D) that suits you best. WE are in Search of the BEST Insurance Plans for you.
Refreshments courtesy of LINCARE
---
Handicap accessible, ADA Compliant
---
Bosher Auditorium
Chippenham Medical Center
7101 Jahnke Road
Richmond, VA 23225
---
About Brooke Groth
Brooke Groth graduated from Western Michigan University with a Bachelors degree in Biomedical Sciences. She has worked for Virginia Farm Bureau since 2009.
She currently holds the position of sales and operations specialist for the Health Care Consultants division.
Prior to moving to Virginia, she was employed at Farm Bureau of Michigan, working as an insurance solicitor. In addition to providing training for the Anthem brokers of Virginia Farm Bureau, she also provides guidance and expertise for Virginians' health insurance needs.
In her free time, she enjoys reading, playing guitar, and hiking with her two dogs, Jake and Annie.
Brooke Groth
Health Care Consultants Sales and Operations Specialist
Virginia Farm Bureau Insurance
(o) 804-290-1124
(f) 804-290-1097

---
Mark Your Calendar for OCTOBER!
Next Month's Topic: Flu and Pneumonia Shots by WALGREENS PHCY & CDC FLU REPORT
Speaker: JIM FARRELL, Center for Disease Control & Virginia Dept of Health
Questions? Call the Facilitator, Russell Glover (804) 378.0628. Donation in Memoriam page
---
OUR SPONSORS
Chippemham Hospital of CJW is our largest supporter
Lincare, Rachele Clement, Representative
Louisa Home Care, Roger Householder, Representative
Roberts Home Medical, Jo Lynn Hamelman Supervisor
---
FLU SHOTS
Flu, Pneumonia, Shingles
We will be providing shots on 10-10-11 at the regular meeting in October! Walgreens will bring the medicine and a privacy curtain for administering the shots.
Please let us know if you want a flu, pneumonia, or shingles shot so that the Walgreens Pharmacy can be prepared.
Event provided by WALGREENS  and Dana Elam, Pharmacist.
Breath Matters 804-378-0628
Benefits of Joining A Support Group
With an illness like Lung Disease, often a feeling of hopelessness and loss of control becomes the norm. With a support group, participants are able to regain that sense of control and exercise authority toward management of their situation.
Support groups can be instrumental in improving psychological motivation. By simply getting "out of the house" and joining with other people with an understanding of the problems being faced, a positive attitude can be nurtured and improved.
WHO CAN JOIN
Any individual that is lung affected can become a member. However, recognizing that it is not only the individual with the lung disease that needs support we encourage the caregivers or "care partners" and other family to join and attend the meetings. Learning and receiving support together helps to equalize the disease experience for all who are involved.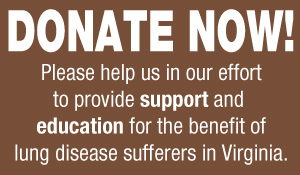 Resource links
More links being organized, if you have suggestions of good, quality information sources, please send it to us.
HELP US!
Do you know of a currently operating pulmonary support group? We are compiling a list for this website: if you know of one, let us know. Thanks.